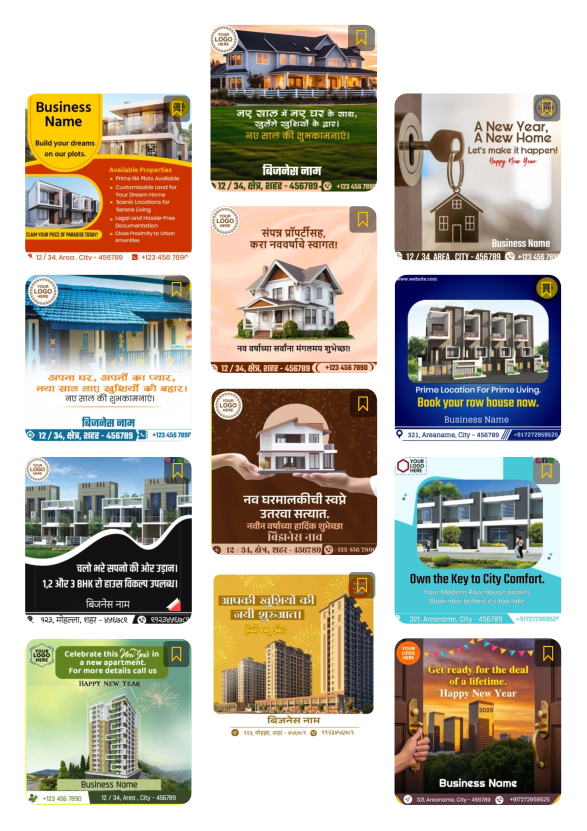 Real Estate Posters and Videos
Create stunning posters to promote your Real Estate Business with the Poster Making App! With a variety of templates and customization options, you can create posters that are uniquely suited to your business. With the Poster Making App for Real Estate, you can quickly and easily create professional-looking posters to help spread the word about your business! You can even add your own images and logos to personalise your posters.
What we Offer ?
How is it beneficial for your Industry?
Create an eye-catching poster with Showcase your business's products, services and promotions with professionally designed templates and an easy-to-use design tool. With our app, you can quickly customise your poster with photos, text, and graphics to make your poster stand out.
Real Estate Business Branding Posts
Create special business branding posts that can help your business stand out from the competition and build a loyal following Establish Your Brand Identity, with special business branding posts.
Real Estate WhatsApp Stickers
Stay connected with the latest industry trends, Experience the magic of creativity Download the latest industry WhatsApp Stickers for your Business.
Industry Special Business Cards
A business card for someone in this field should reflect the individual's expertise and commitment to the industry. Your card should include the individual's name, position, contact information, logo or other visual representation of your expertise. Depending on the individual's role, the card should also highlight any certifications, degrees, or other credentials related to the field .
Real Estate Industry Logo Library
Don't have a Business Logo? Nothing to worry about! You've got our back. Choose from a huge library of Free Logos of Banking and Finance or talk to our Creative Team now & get your unique Logo designed. You can select from a wide range of logo designs, customise them with your own text, images, and colours. Let us help you to create a unique logo.
Real Estate product Ads
Introduce the newest product from your business, Tired of the same old products Ads? Get the latest and greatest One, Experience the difference today .
Real Estate Multiple Sub Industries Content
Expand Your Business Horizons With Multiple Sub Industries, for your growing business. We have multiple sub industries to choose from like Real Estate Offices, Commercial and Industrial Property, farmhouse, Buildings, Shops, Open Plots to help your brand explore new business opportunities.
Posters and videos are ready for your Real Estate business. Check out our more categories now.
Don't just take our word
Hear what our customers are saying
AdBanao has a good variety of categories which offers from events, to birthdays, day special, festivals and with brand advertising. Each and every category has its own style, which means full of customization. The best app so far
User Friendly app Easy to use Anyone can operate easily All of them are very updated I have just one suggestion Increase Your no of templates and it should be look like very rich. Thank u All 😇♥️ Now 5
I have been using this app recently. It has helped me alot in very few days... Wonderful app. I suggest everyone to download it if they want to save money nad advertise more.
User Friendly app Easy to use Anyone can operate easily All of them are very updated I have just one suggestion Increase Your no of templates and it should be look like very rich. Thank u All 😇♥️ Now 5